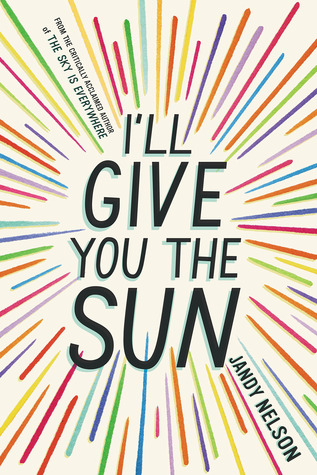 I was enjoying everything about this book up until the very end. What a shame.
I'll Give You The Sun is a story about family, loss, and love narrated by twins Noah and Jude. They used to be half of each other's souls but a tragedy changed everything about them. 
The thing with a dual narrative is the difficulty of giving the narrators different voices to avoid reader confusion. Jandy Nelson did a stellar job on this one. There are enough distinct qualities to both of their personalities that made me want to know more of them. The way Noah talks to himself, how he constantly paints inside his head, and his witty observations towards other people were poignant and quite relatable. Jude's way of talking to ghosts and religiously following her Grandma's book of superstitions was often interesting and sometimes hilarious. 
I especially liked how Noah's sexuality was portrayed. At a young age of thirteen years old, Nelson provided enough clarity about homosexuality without losing touch of that innocence and early confusion. It was an honest depiction through Noah's character. 
The metaphors didn't really bother me. Sure, there were bizarre exaggerations from both narrators but I think it helped give the story some weight. I really like Nelson's style of writing and I think it improved from her debut novel, The Sky is Everywhere.
The problem is, towards the end, everything went downhill. The last parts were abrupt and messy that it felt like Nelson rushed to get the whole story in before a deadline, including the connections and reconciliations of the characters. That was very disappointing. 
But I believe that this book's strongest point is the shaping of the two main characters. All the influences that they each had since they were little contributed to their actions and the way they think when they got older. Flawed and real. 
Rating: 3 out of 5 stars