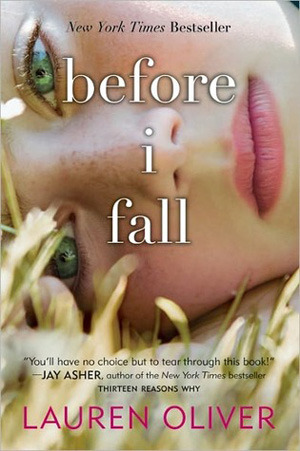 I did not expect much from this book because it seems like it is about a privileged girl living in the suburbs whining over her first-world white girl problems as she relives her death seven times. So, it was a pleasant surprise when the whole story completely blew me away.
Samantha Kingston sits at the top of the high school hierarchy with her three best friends. She has everything: looks, reputation, and the school's heartthrob as her boyfriend. Then, on one seemingly normal day, Sam dies. But the thing is, she wakes up the next morning in her bedroom to find that she gets to experience her last day again. She now has to figure out why she's been given this opportunity and what she must do to set things right.
Lauren Oliver writes in absolutely stunning prose. It's evident in how Samantha describes certain memories with words that just flow smoothly and effortlessly over one another, like they were meant to be that way:
"I've never really thought about it before, but it's a miracle how many kinds of light there are in the world, how many skies: the pale brightness of spring, when it feels like the whole world's blushing; the lush, bright boldness of a July noon; purple storm skies and a green queasiness just before lightning strikes and crazy multicolored sunsets that look like someone's acid trip."
"I shiver, thinking how easy it is to be totally wrong about people – to see one tiny part of them and confuse it for the whole, to see the cause and think it's the effect or vice versa."
The words cut deep and left me aching, yet craving for more. The plot hooked me in and did not let me go until the very last page. Even though I knew what was coming, I held my breath hoping for some alternative end. It left me melancholic, thinking how unfortunate it is that we need to be given a chance to relive the same day in order to really see the impact our actions and words have on people.
The characters are so well written because they seemed real to me, like, they are people I know and talk to everyday. Samantha's character made me feel different emotions: exasperation, disgust, sympathy, and admiration for her bravery. I could not stand her character a few times throughout the book, probably because I saw a little bit of myself in her; the self-absorbed characteristic that often leaves me oblivious to other people's struggles. That is to say, she is a very effective protagonist. She was unstable yet hopeful as she realizes the true pains of love, family, friendship, and loss.
This is an exquisite story that teaches you that not everything revolves around you and that the things you do could affect other people's lives tremendously without getting too preachy about it. It contains a powerful message about the way we treat people in exchange for those fleeting moments of fame and popularity, and puts an emphasis on the things we should want to be remembered for.
Rating: 4 out of 5 stars