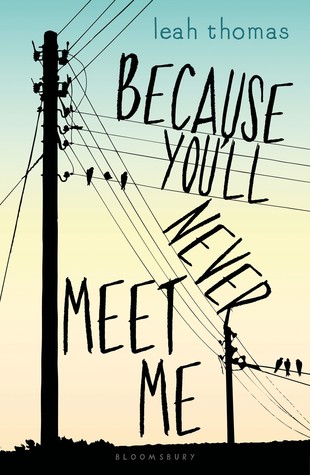 "I knew then that there were things you would always be powerless to change about your life." She spoke softly. "And that I couldn't protect you from all of them."
Because You'll Never Meet Me seemed very promising when I first took it off a bookstore shelf to read its blurb. I thought it would be about two people overcoming impossible obstacles just to see each other in person. And I knew I just had to buy it knowing that these two developed a deep relationship only through words. But it wasn't exactly what I was hoping for. 
Ollie is "allergic" to electricity while Moritz has the most powerful human ears in the world. Reclused, Ollie decides to write to Moritz, as suggested by his mom and his doctor, to learn about other kids in the world who are experiencing peculiar physical conditions. Through this, Ollie and Moritz discovers a bond that goes beyond friendship. 
Ollie was very optimistic and I like that he kept that character until the end. Moritz was giving off a Sheldon Cooper vibe at first. You know. Tactless. But it's very satisfying to go on this journey with him and see him opening up to Ollie and becoming more keen and human. Even though Moritz sounded like he was way older than 16, I was rooting for him and he responded to the consequences of his odd situations the way I wanted him to. Meanwhile, Ollie read too young even though he's supposed to be 14 but I guess it suits him given his conditions. 
Oh and their weird scientific connection was very interesting. It added a kick of sci-fi element into the story without over empowering the focus on the two's budding friendship. It gave the book its much needed color against an otherwise pristine canvas. The book's good but overall, it wasn't really an out-of-the-park hit for me.
Rating: 3 out of 5 stars