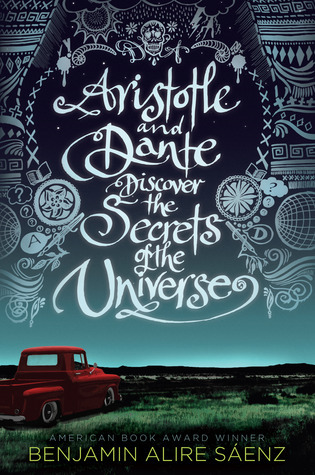 I wondered what that was like, to hold someone's hand. I bet you could sometimes find all the mysteries of the universe in someone's hands.
Last read: December 21, 2014
Yes. Without a doubt, this book is still one of my all-time favorites. More than a year after I last read Aristotle and Dante Discover the Secrets of the Universe, I'm stunned that it still held the magic I felt when I first met Ari and Dante. And I don't think it will ever lose its charm.
The book does not have a definite plot. It follows solitary fifteen-year-old Aristotle Mendoza who meets an eccentric boy his age named Dante Quintana, as they, uhh – well, as they discover the secrets of the universe. *high-fives myself for incredible book summary*
But really, there's no big mystery to solve, no damsels in distress that need saving, and no prophecies to fulfill by the chosen ones. It is just a simple story of how two boys create this moving friendship that brings the different types of tears to your eyes. It is this simplicity that makes me fall in love with the book over and over again. Ari and Dante's conversations reminded me of Richard Linklater's Before Trilogy where Ethan Hawke and Julie Delpy would just roam the streets of some European city and talk about whatever came to their minds. It was so easy to go along with them and relate to their opinions on love, family, and growing up. I'm still astounded as to how Saenz managed to craft these two characters with the right balance of innocence and maturity that there's nothing you could do but fall in love with them.
This is a beautiful book about knowing yourself and being brave enough to accept whatever you might find at the end of the journey. I will be reading this multiple times in the future because I feel like I uncover a tiny secret of the universe every time I do.
Rating: 5 out of 5 stars (unchanged)