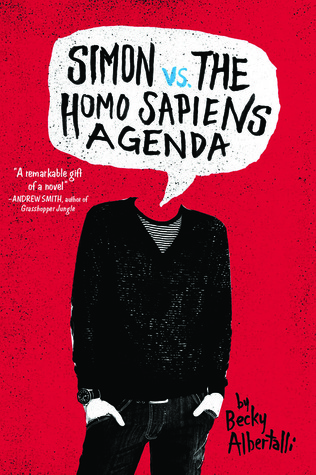 As a side note, don't you think everyone should have to come out? Why is straight the default? Everyone should have to declare one way or another, and it should be this big awkward thing whether you're straight, gay, bi, or whatever.
Simon vs. the Homo Sapiens Agenda is a smart and funny book, with a set of characters full of life, vigor, and wit. Although some of them had trivial roles to play and were unnecessary to keep the story flowing continuously, it was still very entertaining throughout.
Simon Spier is blackmailed by class clown Martin after reading Simon's emails with mystery pen pal, Blue, confessing that he's gay. Martin asks for Simon's help to get close to multi-talented, insanely gorgeous Abby, one of Simon's best friends. In exchange, Martin won't tell the world of Simon's secret. Then things get complicated and Simon faces the reality of him expressing his identity to the people he cares about without jeopardizing his relationship with them.
I devoured this book the way you devour pizza: quick, spiritual, and full of nothing but joy after the deed is done. It was so easy to lose track of time over this book because it's so entertaining and undeniably hilarious. It finds humor in the subject of sexual identity without losing heart. And Albertalli comes up with these scenes full of incredible in-your-face jokes that made me laugh so loud I almost didn't notice the poignant message underneath it.
This is a very refreshing read that will make you laugh, smile, and go Yaaass!! Take a copy of this book off a bookstore shelf and bring it home with you. I promise it will brighten up your day.
Rating: 4 out of 5 stars